Tour Details
The Ausangate Trek is the most representative mountain of Andes. It is located to 6,372 meters height.
Turquoises lagoons, extensive plains and stone forest, turn totally to the zone an isolated lunar paradise. To walk by the landscapes of the Ausangate is an indescriptible adventure, in which it is impossible not to be astonished before the beauty at the dusks and eternal snows. He is frequent to also be with rock needles that rise to more than five thousand meters of height and with ice tongues that fall of vertiginous way and form glacial lagoons.
Itinerary : Summary Ausangate Trek
Day 1: Cusco – Tinki – Pacchanta.
Day 2: Pacchanta – Pachaspata.
Day 3: Pachaspata – Chilca.
Day 4: Chilca – Pukacocha.
Day 5: Pukacocha – Upis or Coñamuro.
Day 6: End of the trek in the Cordillera Villcanota and return to Cusco.
Price Includes
Professional Guide
Meals 5 breakfasts + 6 lunches + 5 dinners
Entrance fee to Choquequirao
Shelters
Transportation Cusco – Tinke – Cusco
Sleeping Tents for 5 Days + camping equipment
Pack animals and Muleteers + 1 emergency saddle
Trail Cook
Price Excludes
Expenses of personal nature such as beverages, laundry, tips
Guide gratuity
Any item including meals which has not been covered in the itinerary
All optional tours or activities during free time
Transfers outside of the tour program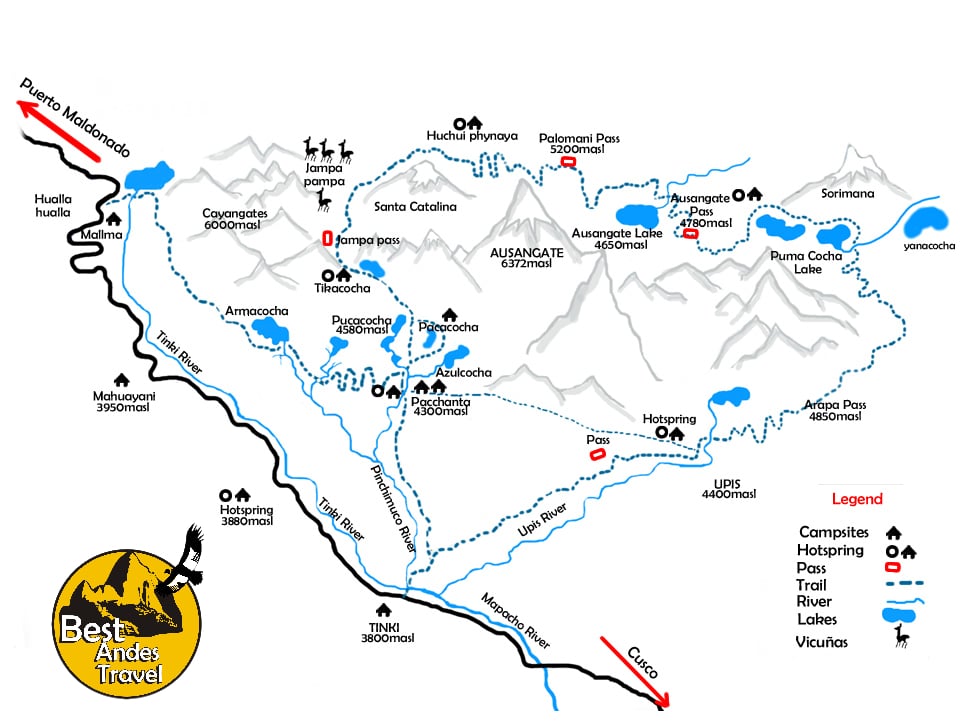 Itinerary: Ausangate Trek 6 days
Day 1 – Cusco – Tinke – Pacchanta
Early morning departure from Hotel headed for the Cordillera Vilcanota aboard private bus.
During our journey we shall go over the Pass of Ccatca (4,200m // 13,779feet), after which we will reach the towns of Ccatca and Ocongate (3,700m // 12,139feet). Finally, we arrive at the village of Tinki (3,900m // 12,795feet), an authentic indigenous settlement, where we meet up with our friendly muleteers (arrieros). After introductions and greetings, rituals of prosperity and offerings to the Pachamama and the Apus (Tutelar Mountain Spirits) commence. We then set forth on the trail to begin our trek.
Night in Pacchanta (4240m // 13,910 pies) near the hot springs.
Number of bus hours: 4h.
Ascent:
Descent
Number o trekking hours: 3h30.
Lodging: Overnight in Camping site.
L/D
Day 2 – Pacchanta – Pachaspata
This day we hike along the flat highland plateau known as the puna .We ascend gradually, following the main course of a stream, in the direction of the first "Abra", or Pass. The view of the greatest towering peaks of the Cordillera Vilcanota is fascinating: Colquecruz (6,110m // 20,045feet), Chimbaya (6,010m // 19,717feet), Mariposa (5018m // 16,463feet), and Ausangate (6384m // 20,944feet – highest mountain in the department of Cusco). The trail is not at all difficult. Several lakes of varying and contrasting color are passed along the way. Eventually we reach Pachaspata at an altitude of 4650m / 15,255feet, which is situated at the foot of the northeast face of Ausangate. Overnight in Pachaspata.
Number of trekking hours: 6 hours
Ascent:
Descent
Lodging: Camping site.
BLD
Day 3 – Pachaspata – Chilca
This day we placidly head towards Campa Pass (4900m // 16,076feet), skirting the slopes of the Aguja Puka Punta massif and the snow capped peak known as Tres Puntas. Lying about, scattered atop this pass, are a considerable number of "Apachetas" – which are "Cairns", piles of stacked rocks, consecrated to the mountain spirits- where the Arrieros (muleteers), imbued by the deep faith and beliefs of their magic-religious world, stop for short while to deposit propitious offerings and add yet one more rock to the pile.
A particularly outstanding feature of this environment, markedly noticeable around this pass, is the sharp contrast between the arid rocky desert of thin, flaky plated schistose gneiss and quartz that are traversed, and the green and ample loftiness of the fields of Yareta. The Yareta (Azorella yarita, a peripheral member of the cruciferae family) is a characteristic plant of the high puna region; its appearance is that of a bright green cushion-like growth, sticky and hard to the touch, composed of thousands of rosettes of tiny leaves. This plant can cover an area of as much as thirty square meters; yet grow only 1.5 millimeters per year. They can be thousands of years old. We now begin going down into the watershed of the Chilca River, although in a general upstream direction, skirting high slopes for about 1½ hours around the headwaters until positioned to descend directly into our destination which is our campsite at Chilca.
Number of trekking hours: 7 – 8 hours
Ascent
Descent
Lodging:Camping site.
BLD
Day 4 – Chilca – Pukacocha
A long trekking day awaits us, with two passes to surmount. The first of these is the pass of Palomani (5,050m // 10,568feet) and thehighest point of the entire circuit. After 2 hours of steady climbing, an astonishing landscape unfolds: a corridor of reddish-brown earth and schist – devoid of ice and snow- on the left slope of the Ausangate massiff, known as the cliff of Aucatauri. The nearby top of the pass affords us a stunning view of the main peak of Ausangate and the summit of nearby Mt. Santa Catalina (5,809m // 19,058 feet), as well as the Lake of Ausangate, with its striking bright green mineral -laden waters.
The next immediate pass is Ausangate Pass, (4,800m // 15,748feet) at the top of which there is yet another magnificent panorama to behold. Surging from the severe background of the terminal moraines of the great mountain emerges another verdant valley, dotted with colorful lakes. We finish this extraordinary day of trekking arriving at our campsite on the shores of Pukacocha (the red lake).
Number of trekking hours: 6 hours
Ascent
Descent
Lodging:Camping site.
BLD
Day 5 – Pukacocha – Upis or Coñamuro
This trek takes place along the bottom of a sheltered valley. The trek is easy and we have only a light ascent to contend with. Actually, we skirt along the west and northwest slopes of our favorite mountain -Ausangate -, afterwards reaching Upis, there is a camping option but an additional two hours yields another camping site in Coñamuro, close to the homes of the local habitants, an excellent opportunity to observe and participate in the customs and everyday life of the communal citizens.
Traditional Dinner of "Pachamanca" (mutton baked in a stone lined, earth sunk oven).
Number of Hours of the trek: 5 – 7 hours.
Ascent
Descent
Lodging:Camping tent.
BLD
Day 6 – End of the trek in the Cordillera Villcanota and return to Cusco
On this day we pull away from the impressive Ausangate Massif, and trek through the highland puna, in the company of Andean geese (huallatas) and wild ducks. Toward the northeast one marvels at the Cordilleras of Urubamba and Vilcabamba. Soon we reach Tinki where our bus awaits us. We now retrace our journey through Ocongate and on to Cusco. Late afternoon arrival in Cusco.
Return to Hotel
Number of Hours of the trek: 3 – 4 hours
Ascent
Descent
The sequence of times and camping places indicated are subject to modification depending on weather conditions or unforeseen events
Photos