Tour Details
The popular Inca Trail Hike in Machu Picchu takes you through the Inca highway, past the Inca ruins, through cloud forests and moorlands, to its crowning glory, Machu Picchu.
You get to climb the endless Inca steps high up in the Andes and catch a glimpse of the Inca citadel from the Sun Gate.
The trail starts at railway line at the town of Pisqakucho, after which a modern suspension bridge over the Vilcanota river will be passed, small communities like Wayllabamba, Warmiwañuska pass at 4200 msnm (13,780 feet) will be passed along the way. From Warmiwañuska the trail descends to Pakaymayu, then ascends to the mountain pass of the same name, it descends again until it reaches Sayaqmarka, Phuyupatamarka, and Wiñaywayna where it goes along a flat path and then goes some steps leading to Intipunku. From here it finally leads into the Inca city of Machu Picchu.
Bear in mind that due to the huge number of people that come to the Inca Trail daily, the Peruvian Government has ruled the entrance to a maximum of 500 people in a day including tourists, tour guides, cooks, and porters.
Tour Type: Hiking, camping, adventure, history, culture
Total Distance: 43KM/26 Miles
Good For: Those who enjoy hiking and have a moderate level of fitness
Difficulty: Challenging
Considerations: Permit required
Day by day Itinerary
Day 1: Cusco- Km. 82 -Wayllabamba (5 hours walking aprox.)
Day 2: Wayllabamba – Pacaymayu (6 or 7 hours walking aprox.)
Day 3: Pacaymayu – Wiñayhuayna
Day 4: Wiñayhuayna – Machu Picchu
Price Includes
Professional English Speaking Tour Guide.
Assistant Tour Guide for groups of 9+
Porters to carry cooking and camping equipment.
Pick-up from your hotel
Return transportation by train and bus to Cusco
3 Breakfasts, 3 Lunches, 3 Afternoon Snacks and 3 Dinners. If you have a dietary request such as vegetarian food please let us know.
Dining tent with tables and chairs
4 man tent for every 2 trekkers
Sleeping mattress (you need to carry this unless you hire a personal porter)
Oxygen bottle
First aid kit
Entrance to the Inca Trail and Machu Picchu
Bus from Machu Picchu to Aguas Calientes
Price Excludes
Entrance to Huayna Picchu – there is a fee of $75 per person payable via Paypal in advance so we can secure permits
Sleeping Bag – $20 per bag for entire trek
Gratuities (Porters, Cook and Trail Guide)
1st breakfast and lunch on day 4.
1 Extra porter to carry personal items ($85)
Walking sticks ($15).
Travel Insurance – you are strongly recommended to take out travel insurance for the duration of your trip.
Itinerary: Classic Inca Trail Hike
Day 1: Cusco- Km. 82 -Wayllabamba (5 hours walking aprox.)

There will be a pickup for you at your hotel at 6 am. You will then travel by bus to Piskacucho (you will hear this be called kilometer 82) where the Inca trail starts. On arrival at kilometer 82 (around 08:30 am), you must show passports entrance tickets, and if you are paying a student rate; your student ID. The trail which is about 2720m starts when we cross the Vilcanota River and continue on its route to the right. The first day is quite easy, and you will get to see incredible views of the site of an Inca Fortress ('Huillca Raccay'); the incredible and vast Inca site 'Llactapata' (also called 'Patallacta'), the Urubamba Valley range that divides the jungle and the Andes and the beautiful snow-capped peak of 'W'akay Willca' (5860m), known in books as Veronica. Our first campsite will be in Wayllabamba (3000masl) where we spend the first night.
Day 2: Wayllabamba – Pacaymayu (6 or 7 hours walking aprox.)

After waking up at 6am (maybe at 05:00-depending on your Guide) and have breakfast, we will start a steep ascent towards the highest pass (Abra de Huarmihuañusca/'Dead Woman's Pass' – 4200m). On this day a real sense of achievement is felt on reaching the top After a rest here, On the way up to the pass we will be able to see lots of humingbirds and other birds. Also we will have the time to appreciate an incredible variety of endemic plants and trees such as the 'Polilepys ' or Q'ueuña tree which grow in the astonishing cloud forest located at 3650. We begin the descent to Pacaymayu (3550 m), where we pass the secod night.
Day 3: Pacaymayu – Wiñayhuayna

This is the most impressive day (in our opinion!!!) so just keep thinking of that on the ascent on day 2 Again we wake up for breakfast at 6 am, and start the day with a gentle climb to visit the archaeological site of 'Phuyupatamarca' (meaning 'Town in the Clouds') and to reach the third highest point on the trail (3680 m). Views of the mountains, canyons and surrounding area, from these points, are spectacular. The Inca site, 'Phuyupatamarca' , is located a few minutes walk from the third pass and after visiting this, we continue walking (3000 steps). we arrive at our third campsite Wiñay Wayna (2680m)(forever young). This day we have only walked about 5 or 6 hours.
Day 4: Wiñayhuayna – Machu Picchu

We leave the last campsite at about 5.30am on the final day (breakfast 4.30-5am). It is an early start in order to get to 'Inti Punku' ('Sun gate') (2730 masl) before sunrise. This is the place from where you will have your first view of Machu Picchu (2400 masl) with the sun rising over it, After some time there, we will walk down the last part of the trail to the spot where you can take the classic photo (picture postcard shot) of this ancient city. Finally we visit Machu Picchu. A walking tour approximately 2 hours is given by your guide and after this you can explore the mysterious city by yourselves. If you still have energy you can climb Huayna Picchu (2720masl) It takes 50 minutes to reach the top. In the afternoon back to Cusco by Expedition train. If desired, an extra night in Aguas Calientes can be arranged. This option is very popular as it allows more time to explore Machu Picchu. You can also go to the thermal springs in the town.
Photos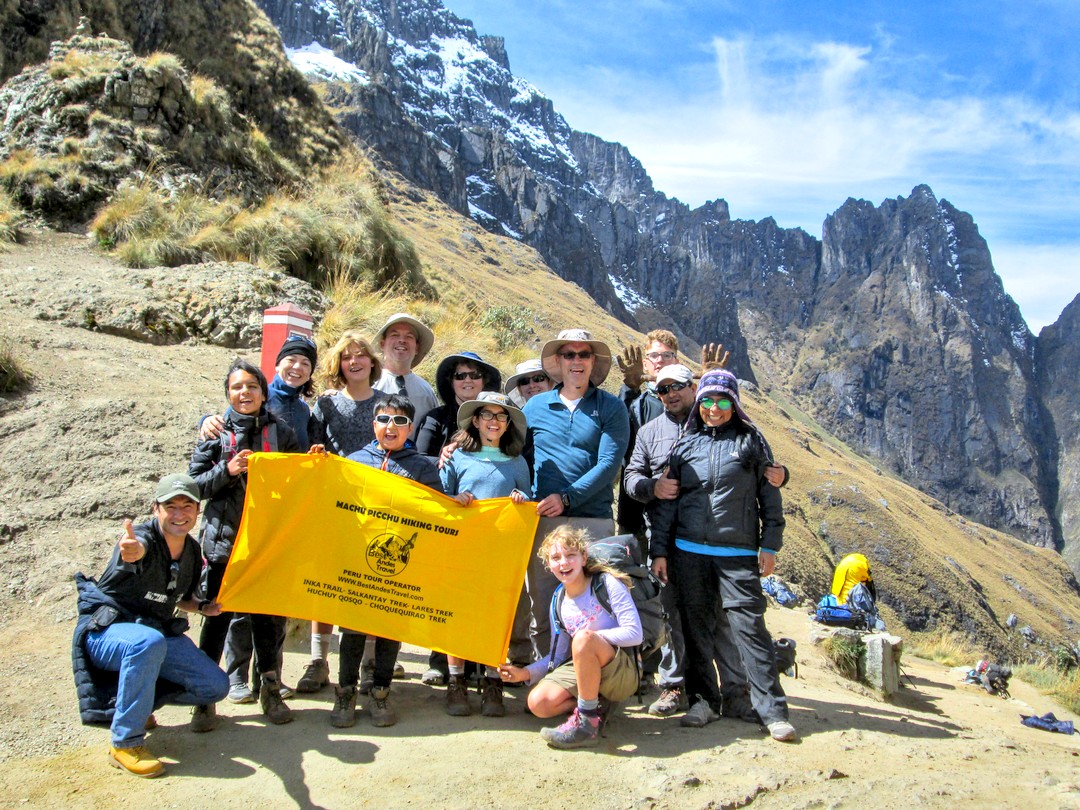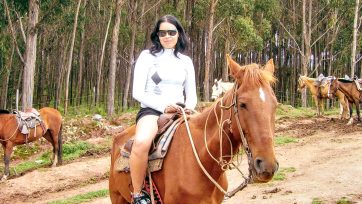 $65
Horse Riding around Cusco
Enjoy visiting on horseback all the best arqueological places on the hills above Cusco. This excursion may take either a full day or half the day. Passengers are picked from their hotel and transferred to a spot located some one miles from town, until reaching the Coco estate near to Sacsayhuaman. Information is given upon […]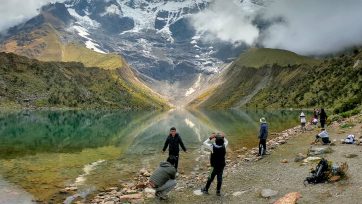 $70
Humantay Lake trek
Rainbow Mountain Trek, Enjoy a fantastic day tour (with hiking) to the so-called 7 Color Mountain, leaving from Cusco. Located in southern Peru.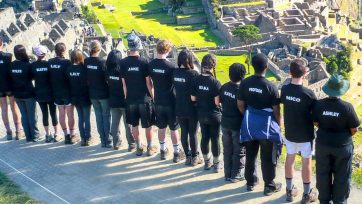 $750
Inca Trail Expedition
This 5 days Inca Trail Expedition covered the same distance than Classic Inca Trail to Machu Picchu, but this gives you more time to apreciate the nature and archaeology.