Tour Details
The Ancascocha Trail to Machu Picchu in the Andes Mountains is a unique trail that truly takes trekkers off the beaten path. Listed as one of National Geographic's 20 dream hikes on their World Best Hikes list. The trek to Acascocha takes travelers through traditional villages like Chillipahua and its namesake Ancashcocha village. Along the way trekkers will ascend high mountain passes including the high point at the Huayanay Pass (4,550 m/ 14,925 ft), and at the top you will have a beautiful view of the very tall 20,551 foot (6,266 m) mountain Apu Salkantay.
Day-by-Day Summary
Day 1: Cusco – Parpishu – Chilipahua
Day 2: Chilipahua – Ancascocha
Day 3: Ancascocha – Camicancha
Day 4: Camicancha – Ollantaytambo – Machu Picchu
Day 5: Machu Picchu – Cusco
Price Includes
Transfer by vehicle from the hotel to the star of the trek
Double occupancy tents with sleeping pads
Kitchen and dining tents
All meals during the trek
First Aid kit and Oxygen tank
Bilingual Guide
Horses to carry the camping gear and luggage
Lunch at Ollantaytambo on the last day of the trek
Buses and Entrance to visit the Machu Picchu Citadel
Price Excludes
Expenses of personal nature such as beverages, laundry, tips
Guide gratuity
Any item including meals which has not been covered in the itinerary
All optional tours or activities during free time
Transfers outside of the tour program
Itinerary: Ancascocha Trail to Machu Picchu
Day 1: Cusco – Parpishu – Chilipahua
Leaving Cusco by bus northward to the village of Huarocondo and heading down the gorge of Pachar, towards the Urubamba river, at 2,900 meters, we will arrive t the starting point of our trek: the footbridge of Parpishu. From here the trail starts ascending slowly, leaving the valley behind us. The trail continues to the pass of Watuq´asa (3,800 m.) where we have lunch and then continue on. We will see an Inca wall and tambo known as Qosqoqáwarina (Where will enjoy a view of Cusco that surrounds the pass. From here the trail descends to the left ending at a small valley with a stream running through called Anapahua, we continue to Chilipahua – a small community where we camp. (L/D)
Walking Distance: 6.2 miles
Walking Time: 7 hours
Day 2: Chilipahua – Ancascocha
We leave our campsite and head northwest, slowly ascending past some small houses at Incaraqay, a community of sheepherders in the high puna. From here a one-hour hike will bring us over another pass at Quchusq´asa (4,500m) with astonishing views of the Urubamba mountain range and continues down into the gulley of the Silque river to reach a wide meadow with a little village called Ancascocha (3,900m.). Here we are in full view of Mt. Huayanay and the Silke Valley. We camp nearby. (B/L/D).
Walking Distance: 8.1 miles
Walking Time: 8 hours
Day 3: Ancascocha – Camicancha
After breakfast we start trekking down beside the torrents Silque River, towards the Sacred Valley of the Incas. On this trail you will find plenty of ¨Huakani¨, the famous big and red Masdevalia orchid, hopefully in bloom. After crossing many little bridges, we will reach the community of Camicancha, where we will camp in a place known for its volcanic rocks, which also has a spectacular view of snowcapped ¨La Veronica¨ and the ¨Pakaritampu¨ pyramid, on the other side of Urubamba River. (B/L/D).
Walking Distance: 5.6 Miles
Walking Time: 7 Hours
Day 4: Camicancha – Ollantaytambo – Machu Picchu
After breakfast, we would start a walk to Ollantaytambo, where we can enjoy lunch and wander around while we wait our train toward Machu Picchu for overnight at a local hotel, dinner on your own. (B/L)
Day 5: Machu Picchu – Cusco
A half hour bus ride will bring you to the citadel for a guided visit which on average takes three hours as your official guide walks you through the different sector of the hill-top citadel, with astonishing views, learning about the aspects of Andean life, taking you back in time. Afternoon return to the village where the train will take you back to Ollantaytambo or Cusco. Transfer to your hotel is included. (Hotel overnight and dinner on your own) (B/L)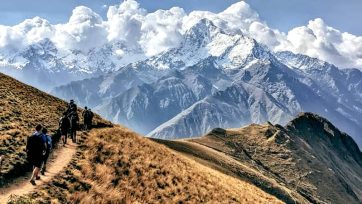 $590
Cachiccata Trek To Machu Picchu
The Cachiccata trek is a great alternative to the Inca Trail. Includes tours of Cusco and the surrounding Inca ruins, a trip to Machu Picchu and the Sacred Valley. An off-the-beaten path Peru tour experience!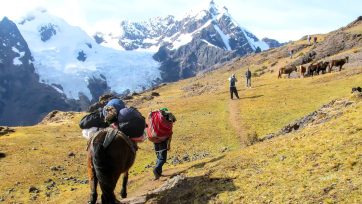 $590
Lares Trek to Machu Picchu 4 days
The Lares Trek to Machu Picchu combine the best of the Lares Valley and the fascinating Inca archeological remains, Ollantaytambo and Machu Picchu.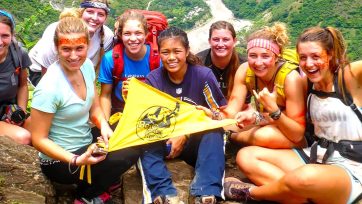 $490
Inca Jungle Trek 4 days
Inca Jungle Trek is a combination of biking and hiking through the impressive Peruvian Andean Mountains the Jungle ending in Machu Picchu