Peruvian Food: The Spicy Side of Various Dishes You Cannot Ignore
Every country in the entire world has a specific aspect in which they are good at. Some are good at making shoes, clothes, exotic cars, watches, jewels, perfumes, while others are good at making savory dishes. One of the exciting places you need to visit in your next vacation is Peru, considering how hospitable the people are, coupled with the taste of their local dishes. You may want to dispute the fact that your country has the best recipes when it comes to intercontinental dishes. You can stay headstrong on your opinions not until you are proven wrong with a taste of Peruvian food. Perhaps, you have just had at first contact with a Peruvian dish, and you are still in wonder of how tasty these dishes are. You don't have to look further as there are other dishes that can change your opinion, letting you admit that Peru has the finest dishes in the entire world. On this note, here are seven Peruvian dishes you must not miss in your next summer vacation to Peru. Moreover, some of these food items shall be represented in their local names along with their translations.
Ceviche
This is one of the best food combinations that tourists cannot do without after a first-time encounter. The unique taste about this dish has been splendid, because of the procedures being used for its preparation. As a matter of fact, this dish has remained one of the favorite recipes that keep tourist asking for more. The reason is that the fish, before the completion of the cooking process, is soaked in lime, oil, and spices for several hours before turning the fish in for cooking. The interesting aspect about this dish it that it is accompanied with sea bass (corvina), starchy boiled corn (choclo), sweet potatoes (camote) and dry-roasted corn kernels (cancha), giving it that irresistible taste that makes you not to get enough of it at each encounter.
Aji de Gallina (Creamy Chicken)
If you are looking for a dish that has all the chicken flavor, then Aji de Gallina is your unmistaken choice. With a blend of cheese, ground walnuts, and Aji Amarillo, you rest assured of enjoying a good blend of recipes all included in the shredded chicken that comes out with an irresistibly yummy taste. Moreover, you can enjoy this dish with a plate of boiled rice or potatoes, depending on your preferences.
Cuy (Guinea Pig)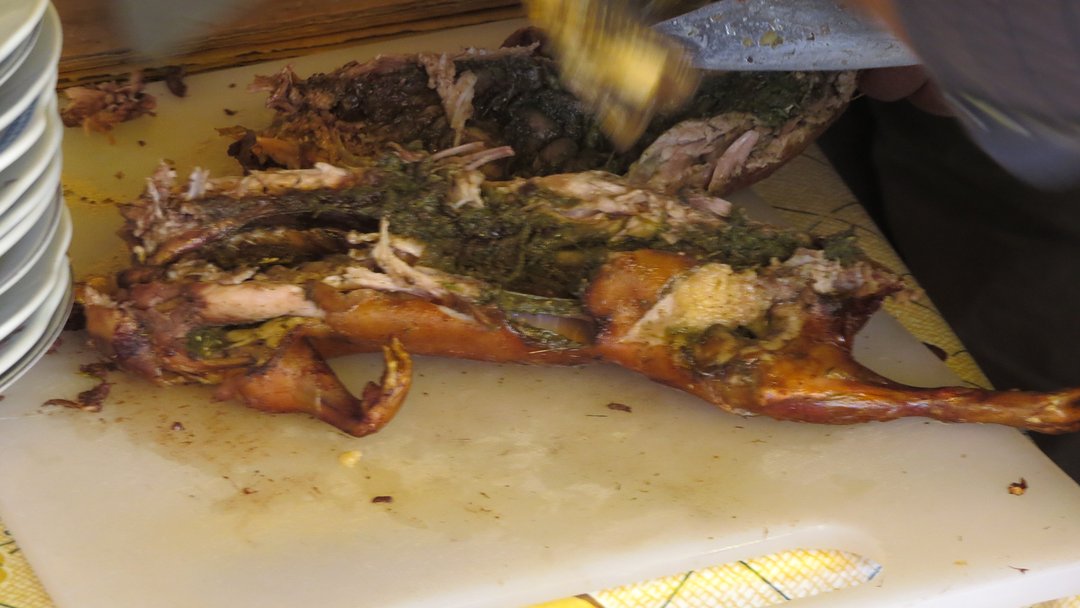 If you want to shift your focus on a dish that is highly rich in protein, then Cuy is what you should settle for when you arrive in Peru. In this case, you can have the mixture of Guinea pig and potatoes which are roasted in a fire to give you that taste of a roasted food. To enjoy your delicacy in the coolest fashion, you are enjoined to eat your dish by hand as you dip your meat portion into Aji sauce, treating yourself to a remarkable taste of an animal that qualifies as a pet in most homes.
Anticuchos de Corazon (Grilled Heart)
You shouldn't expect to eat the heart of an animal, considering the name given to this dish. However, the name is just a demonstration of the taste of the grilled meat or chicken that gets to you after every bite. You can enjoy this dish with potato or onion slices depending on how you want to be served.
Arroz con Pato (Rice with Duck)
If you want to get a mouthful of what a duck tastes like, this is the exact food you should opt for in your vacation. The rice is treated with a combination of dark beer, cilantro paste, and herbs to give it that natural look of a vegetable-rich food. Moreover, the part that you will also love the most is when you are about to savor the thick thighs or the chest of your crisp-seared duck. If you can't have duck, you can be given chicken or turkey in replacement so that you don't miss the taste of grilled food.
Pollo a la Brasa (Roasted Chicken)
If you are a lover of poultry, you should expect to get a taste of this nicely prepared recipe. With a mixture of garlic, natural herbs and Aji spices, you can enjoy the tasty feeling of chicken roasted into that irresistible diet that will take your breath away at every single bite. Moreover, you can also enjoy this dish with a Peruvian black mint sauce.
Alfajores
It is not all the time you have to maintain a strict routine of tasty food in large chunks. There are options with which you can choose your dishes from. Interestingly, Peru also has nice cookies that can treat visitors to the best food tasting vacation, more than any other places that you have ever visited. This shortbread is made up of cornstarch, butter, and caramel to enhance its remarkable taste which will keep you wanting more and more after every bite.
On this note, all of these food items await those that are ready to visit Peru. Moreover, there are other Peruvian food that this article cannot cover, as they are in their countless number, as you are interested in trying out delicious dishes. These foods are made in such a way that you might be tempted to stay back in Peru to get more or think of a relocation. Peruvian dishes can keep visitors spellbound with just a bite for a start.