Peru is one of the most culturally diverse countries in the world, with over 40 indigenous languages and 24 distinct ethnic groups recognized by the Peruvian government. It's no wonder, then, that there are several different types of currency in Peru – five, to be exact. The following guide will help you understand how each type of currency works, as well as how to get your hands on it during your trip to Peru!
What currency is used in Peru?
The Peruvian Sol is the currency of Peru. Our currency rankings show that the most popular Peru Sol exchange rate is the USD to PEN rate. The currency code for Nuevos Soles is PEN, and the currency symbol for this unit of account (or money) is S/.
Is it advisable to carry dollars to Peru?
This is a difficult question to answer, because it can depend on many factors. Generally speaking, it is advisable to bring U.S. dollars with you when travelling to Peru, but not all places will accept payment in USD. Currency exchange offices are relatively inexpensive and plentiful throughout Lima and other cities, so using them will give you peace of mind that if you need to change money, there is most likely one nearby. Some places may only accept cash payments and won't take credit cards or debit cards, so it's important to carry some of those as well. You should also keep an eye out for scams involving counterfeit money – as counterfeiting is a major industry in Peru – and keep your wallet close at all times if possible.
Currency in Peru – denominations
The Peru Sol (currency code PEN) has denominations of 10 soles, 20 soles, 50 soles, 100 soles and 200 soles.
Banknotes: 10, 20, 50, 100 and 200 soles.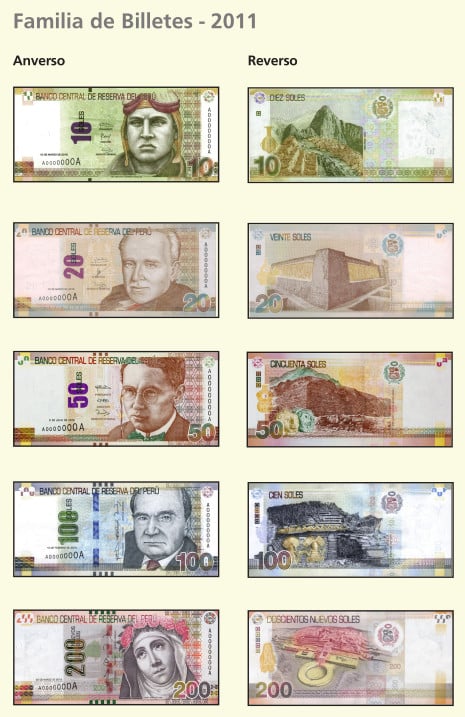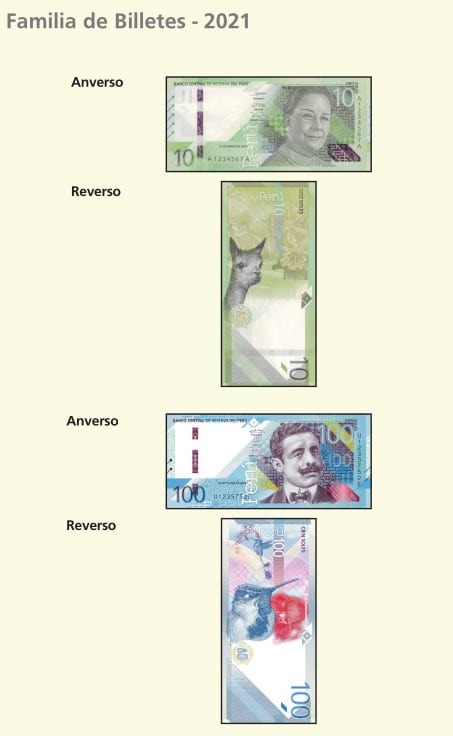 Coins: 10 cents, 20 cents; 50 cents, 1 sol, 2 soles and 5 soles.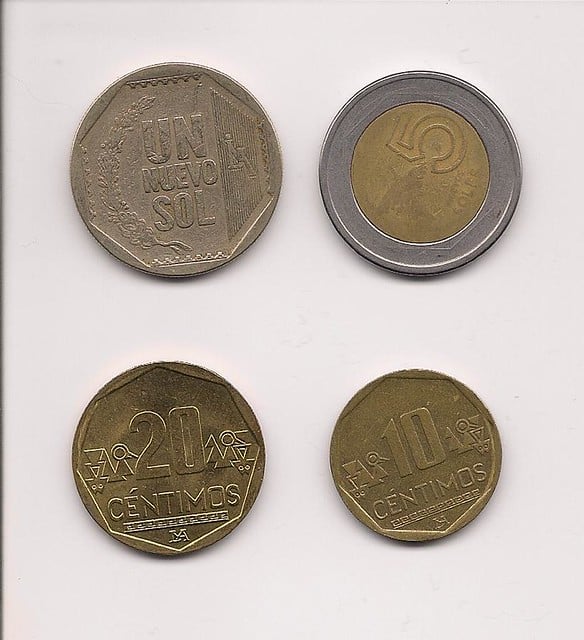 Frequently Asked Questions (FAQ)
What are Peruvian Sols?
Peruvian soles (PEN) is the unit of currency used in Peru and it's abbreviated with a S. The Peruvian sol is equal to 100 cêntimos.
How much does one US Dollar cost today? One USD can buy about S/ 4.00 PEN at the time of writing. You can check the exchange rate at this link.
Where can I exchange my money for Peruvian soles? There are several places you can go, but it's best if you check their exchange rates first so you know how much money will be left after exchanging your money. Places like Travelex and Moneygram usually offer good rates, but they're only available in major cities or airports; while banks also offer good rates on exchanges, they're only available during banking hours on weekdays, making them inconvenient for travelers on weekends or evenings.
What other currencies are often used when traveling abroad?
The Euro (EUR) and the British Pound Sterling (GBP) are also common international currencies. The Euro, for example, can be used throughout Europe without having to use a different currency for each country.
Where can I get Peruvian currency? You can exchange your US dollars for Peruvian Soles at any of the currency exchange offices that are located in the banks, airports, and some hotels. You can also withdraw money from ATMs that have a Visa or Mastercard logo on them. If you're looking to withdraw money from an ATM that doesn't accept either of these cards, you'll need to contact your bank for more information.
Can I use dollars in Peru? Many stores and restaurants accept dollars, but you may not be able to get change from them because they are not accepted by banks or ATMs. You can exchange your money at a local bank or at an authorized money exchanger. Make sure to have your passport on hand when exchanging cash and always count your money carefully before leaving.