Peru is a South American country that houses diverse cultural and physical attractive features. This country is home to Machu Picchu, an ancient Incan city that is situated in the Andes Mountains. The country also boasts of numerous physical features like Amazon rainforest, Sacred Valley, Cusco city that houses Domingo covenant and Inca ruins, Lima that is situated on the Pacific coast of the country and its capital city that is home to colonial architecture and Museo Larco art. On the southern side of the country lives an enormous lake Titicaca, which is shared with Bolivia. This lake offers sapphire waters, folkloric festivals and diverse wildlife.
With the above tourist sites, many visitors tour the country hence leading to numerous luxury hotels set up in the area. While visiting the country, you can consider one of these luxurious hotels.
1- Belmond Sanctuary Lodge Machu Picchu
Machu Picchu is the most visited location in Peru. The area is popularly known for its mysterious archaeological site, Inca ruins. Besides Inca ruins, the city is also known for its incredible biodiversity that surrounds the ruins.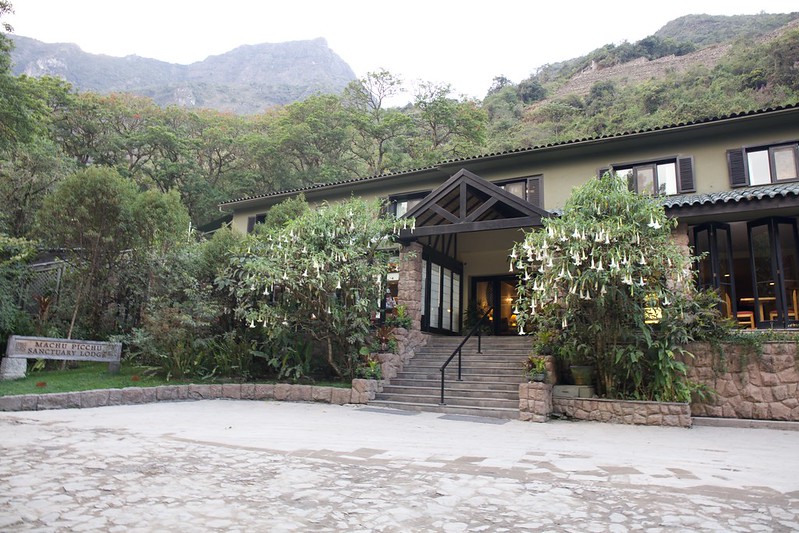 The most luxurious and most preferred hotel in the area is Belmond Sanctuary Lodge. This hotel is a favourite of many due to various reasons among them being its locations and high-quality services. The hotel is located directly at the entrance of the New World Wonder. Most hotels around the area are located in Aguas Calientes, a 30 minutes ride to Machu Picchu. Besides its location, the hotel has a great hot tub that provides a wonderful Machu Picchu view. This hotel also runs a luxurious train that operates from Aguas Calientes to Cusco.
Around the hotel is the temple of the condor which is 8 minutes walk away, Huayna Picchu 16 minute walk, Winaywayna which is approximately 0.5 KM away, and the Manuel Chavez Ballon site Museum which is 6.4 Km away.
2- Palacio Nazarenas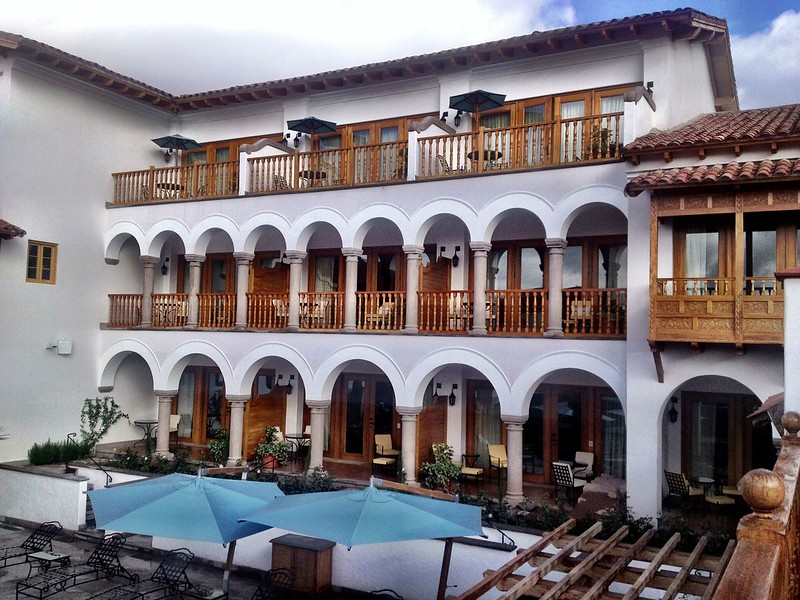 This hotel is located in an ancient convent in Cusco. It is an incredibly stunning hotel and one of the best in entire South America. It is situated behind the Cusco main square, from Cusco Cathedral. The hotel is located in an 8-minute walk from Qurikancha temple Inca ruins. This hotel was opened in the year 2012, so most of its items and the overall conditions still look new. The hotel's amenities include a heated outdoor pool which runs 3.850 meters deep, a spa, room and laundry services, an Andean restaurant, a bar. They also offer freebies in salsa and yoga lessons and breakfast buffet. It provides very private settings with just 55 suites. In your room, you get to enjoy mini-bar and all-time butler service. The hotel rooms are equipped with extra oxygen making the rooms ideal for people who always suffer from altitude sickness.
3- Tambo del Inka Hotel Luxury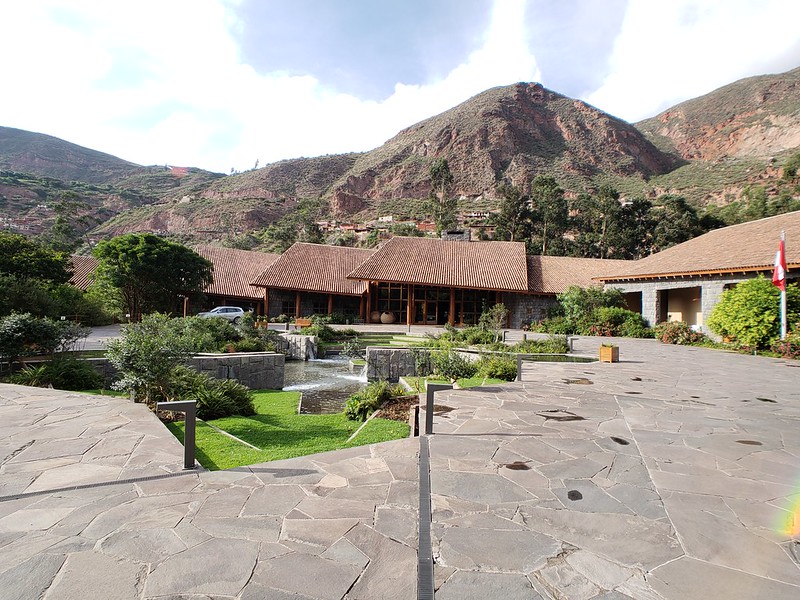 This hotel is based at the foot of Ch'iquin Mountain, a distance of approximately 2 kilometres from Sacred Valley Ruins. It is a 5-minute walk from Plaza de Armas square. The hotel has vibrant and posh rooms with marble bathrooms and elegant balconies. The rooms are equipped with iPod docks, min-bar, flat screen TV, and WI-FI access. Availability of suites, butler services and all-time room services are part of the luxuries offered in this hotel. The hotel also offers a beauty spa, outdoor and indoor pool, a game room fitted with a pool table, and an Andean restaurant among others.
4- Titilaka Lodge
At the shores of Lake Titicaca, lies the famous luxurious Titilaka lodge. This lodge is an all-inclusive hotel and is located approximately 94 kilometres from Inca Manco Capac International Airport.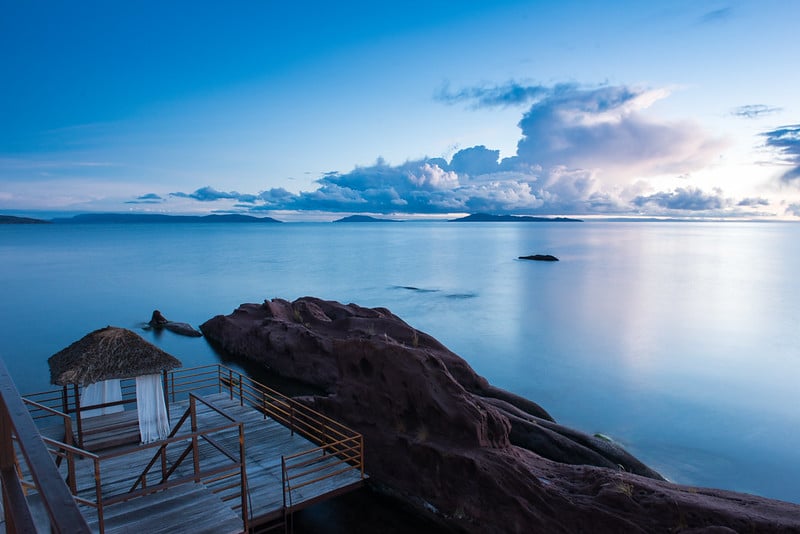 Lake Titicaca is a commercially navigable lake that is prominent for its floating reed island and the surrounding community, the Uros people, a society that comprises of male knitters on the Taquile Island.
This hotel offers lake views, heated floors and window seats that are suited with iPod docks, mini-bars and free WI-FI. Although TVs are not offered in the rooms, the lodge offers breathtaking outdoors activities such as bird watching, cycling, and kayaking. Other amenities provided by this hotel include private beaches whose roof is grass thatched, media rooms, bar, restaurant, etc.
5- JW Marriot Hotel Lima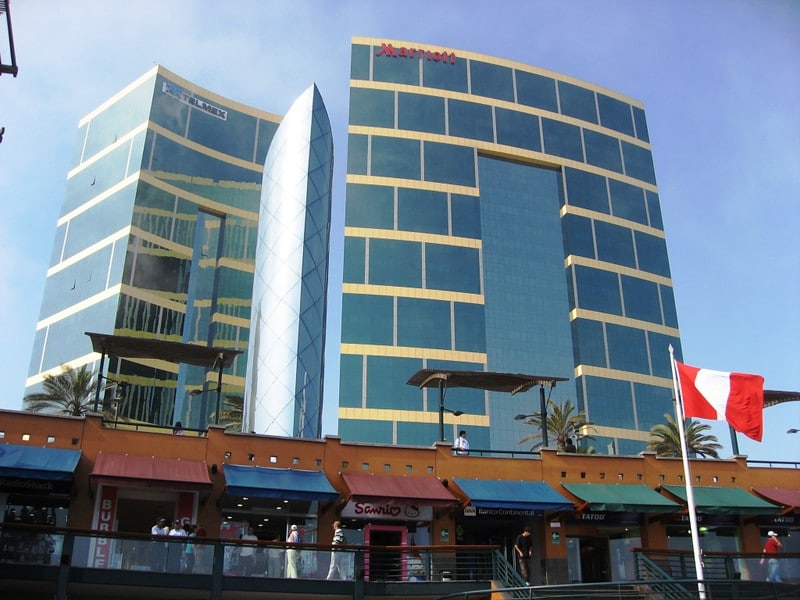 In the heart of Miraflores, lies the luxurious 5-star JW Marriot hotel. Miraflores is located in Lima, the capital of Peru. Lima city boast of its young art scene, beautiful restaurants and a fantastic culture.
JW Marriot Hotel is a 25 glass storey building that is located directly at the front of Larcomar shopping centre. At the hotel, you will get to enjoy superb views of Lima beaches and the horizon of the Pacific Ocean.
Amenities present in this luxurious hotel include a fitness centre, beauty spa, swimming pool, casino, Sauna. Other activities offered by JW Marriot are child and babysitting services, meeting rooms, tour desks, and dry cleaning services.